The last performance of THE SIXTH WIFE was at the Allendale Centre, Wimborne, Dorset on 15 July 2016. This performance was part of the Wimborne History Festival.
It is very sad to say goodbye to this show, which has been touring since 1992. However, Alison is now getting a bit old to play Katherine Parr, who died at the age of 36.
The show has had hundreds of performances, at all the usual types of venue, and also a few more surprising ones; Gloucester Cathedral, Berkeley Castle, and Bodellwyddan Castle (Welsh home of the National Portrait Gallery) to name a few.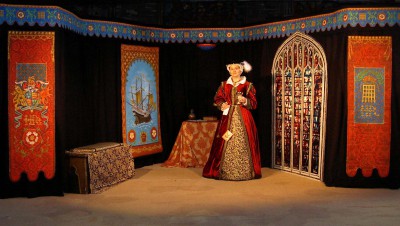 The fabulous paintings on the set were done by Elizabeth Waghorn, and looked as good in 2016 as they did when they were first painted.
The "stained-glass" window is a photo-blowup of a window in Westminster Abbey, and contains a depiction of Henry VIII and Catherine of Aragon. The photo-blowup came from an exhibition at Greenwich Maritime Museum, and was cut down to fit Alison's set.
The Tudor music used in the show was from a recording by the City Waites.
…..
Alison was asked to portray Katherine Parr at a three-day event at Soudley Castle, Gloucestershire, back in the '90s, for Past Pleasures Ltd. Worried that the costume might be damaged by wet grass, she encased the hem of the velvet gown in plastic bags, covered over with a layer of fur. So successful was this, that she never removed the fur, enjoying the discrete rustling of invisible Sainsbury bags every time she knelt down during a show!
…..
When she was originally writing the script, there was some problem in the news between the UK and the European Union. Henry VIII had his problems with France and Spain, and thinking that it might get a small chuckle from the audience, Alison included the phrase:
"It is folly for the English every to trust the people of Europe. For envy of our fair isle they will conspire against us, and behave without honour at the last."

The line has got a laugh during every single performance of the show between 1992 and 2016, because there has ALWAYS been some problem going on between the UK and the EU…..!
……..
The script of THE SIXTH WIFE is now available to hire. For details, go to the ABOUT ALISON page, or contact Alison.