LARKS AND MAGIC: NEW SHOW FOR 2018
We are delighted to confirm…the new show joining Alison's repertoire for 2018 will be LARKS AND MAGIC, the story of E. Nesbit.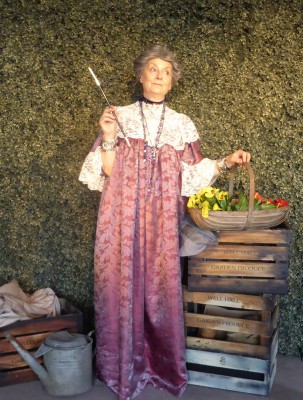 The show will be around one hour long, without an interval. This format is proving popular, and the price can be kept remarkably low.
The show will fit into small spaces such as museums, libraries and galleries, as well as being suitable for village halls, and small theatres.
For organisers who would like a longer event, Alison is happy to do a "Question and Answer" session after an interval. These relaxed Q & As have proved very successful after performances of "MRS BEETON, MY SISTER".
LARKS AND MAGIC will be a lively and fast-moving account of the life and times of E. Nesbit, who is credited as the first modern writer for children. "THE RAILWAY CHILDREN", "THE WOULDBEGOODS", "FIVE CHILDREN AND IT", "THE AMULET", "THE STORY OF THE TREASURE SEEKERS"…children have been entranced by her books for a hundred years.
Edith Nesbit's life was more extraordinary then any of her magical stories. Charming, badly behaved and always up for a lark, she also worked immensely hard to keep her unconventional family afloat. Buffeted by unexpected twists and turns throughout her life, her domestic arrangements still seem jaw-dropping, even today. As part of the Bohemian set in London around the end of the 19th century, she was a founder of the Fabian Society, and friend of famous literary figures such George Bernard Shaw to Noel Coward. And more than a friend so some…
Once read, her children's stories are never forgotten. E Nesbit herself was unforgettable too…come and meet her in Alison's new show about her life, larks, and enduring magic.
The play will be directed by David Collison, and will premiere at Backwell Studio Theatre, near Bristol, in February 2018. The Welsh premiere will be in Coytrahen. LARKS AND MAGIC will be available for a single performance, or two performances in one day, from May 2018.